(NOTE: Blog updated in February 2021 with additional influence marketing examples)
Influencer marketing is one of the most useful and efficient ways for businesses to reach potential customers for their products and services.
According to a study by Adweek, 75% of brands engage with influencers as a part of their main marketing strategy.
Businesses know that today's consumers are knowledgeable and not easily swayed by traditional marketing. Consumers also look to peers to help them make purchase decisions.
Influencer marketing can increase brand awareness, build an audience and help boost sales. Most importantly, it often costs significantly less than conventional advertising.
If you're looking ideas on how to work with influencers for your digital marketing campaign, you should learn from the best.
So here is a list of some of the best innovative examples of companies that nailed their influencer marketing campaigns and what you can learn from them.
Use "regular" people to spread the word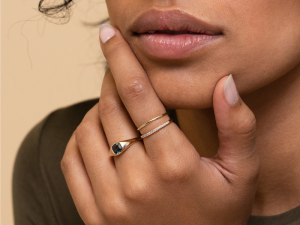 If your network includes any Millennial or Gen Z women, you've likely witnessed the comeback of gold jewelry on Instagram: brought to you by Mejuri.
Toronto-based fine jewelry startup has owed their overnight cult status to their ever-growing group of super fans and micro-influencers.
Alongside tried and true bestsellers, Mejuri utilizes "drops" almost like a coveted sneaker or music brand, releasing new, limited-edition pieces every week.
Side by side with weekly product drops comes Mejuri's adoption of a diverse and fully realized influencer strategy.
Beside big name celebrities the brand gets to promote their products (like Oprah Winfrey sporting their gold hoop and pearl earrings) the brand regularly works with micro-influencers and "regular women" since its inception.
One Mejuri customer even noted "sometimes it feels like every cool girl I know is a Mejuri girl."
And considering that 75% of Mejuri's sales come from women buying themselves jewelry, a rarity in the industry, it seems to be working.
According to Mejuri Co-Founder and CEO Noura Sakkijha, the brand owes a large part of their first million or two to the rise of influencer marketing and holding on to the relationships they formed with them for the long term.
There is an army of Mejuri girls that closely follow the brand's product drops, post their own pictures, and tag the brand in the thousands to create Mejuri's ever-growing community of paid and unpaid influencers.
Collaborate with other companies 
When you think about a McDonald's partnership, you might have images in your head of Beanie Babies, Hot Wheels, and other plastic toys littering the backseat of a minivan.
What you might not think of is Grammy-nominated rapper Travis Scott.
But in September of 2020, that is the exact partnership that shocked the fast food industry, the hip hop community, and pop culture at large.
The collaboration between the two culminated in an animated ad, social content (including photos of Scott pulling up to a restaurant in a Lamborghini), merchandise, and the limited edition "Travis Scott Meal" at participating restaurants.
Their success was driven by strong fan engagement both online and offline and helped promote McDonald's as a cooler brand for a younger generation.

Due to the surge in popularity, restaurants sold out of the limited-edition meal almost immediately and faced supply chain issues.

The ad on Scott's Instagram alone cultivated over 11 million views (not including any of the paid advertising on TV or online.)
Aside from the paid campaign, the partnership became a trending topic on Twitter and garnered endless articles from gossip magazines to major news organizations.
You don't have to be a mega star or billion-dollar corporation to learn something from this collaboration; one plus one sometimes does equal three.
Look for fresh perspectives
Legendary hotel chain St. Regis is known for luxury, elegance, and maybe being a little snobbish.
One thing you probably would not come to mind when booking a vacation getaway at one of their top tier resorts is "family friendly". Enter, mommy-blogger Naomi Davis (also known as @taza).
To dissolve some of the snooty feelings some had over the hotel, St. Regis invited Davis to enjoy a weekend away at the St. Regis Monarch Beach with her family.
Through the use of her blog and other social channels, Davis was able to showcase all St. Regis had to offer for a young family in a non-pretentious manner.
Photos of kids enjoying the pool, the hotel's famous butler service, and croquet on the lawn (alright, maybe a little pretentious) highlighted the resort as a place fit for children.
Using an influencer like Davis, one that may not have previously encapsulated the hotel's demographic, is a great example of collaborating with influencers to not only garner attention, but also bring about a wider appeal from a fresh audience.
The plentiful amount of blog comments, over 50 thousand YouTube views, and countless interactions across Pinterest, Instagram, and Facebook, brought the St. Regis traction in a new manner.
Stick with brand values
Boxed Water may sell water, but the company also highly values environmental conservation. They collaborated with the National Forest Foundation to create the "Retree Project" campaign.
For every photo Instagram photo that is posted using the hashtag #Retree, Boxed Water would plant two trees.
The company reached out to famous Instagram influencers to post in support of the campaign and also encouraged their followers to repost.
The campaign is currently ongoing and the brand has planted over 500K trees in Sierra National Forest, Stanislaus National Forest, and Uinta-Wasatch-Cache National Forest.
Leverage authenticity
Sephora a French chain of cosmetics stores built a community of insiders called "Beauty Talk," who leave honest product reviews and help people to make purchasing decisions based on their needs.
Sephora also sends free cosmetic samples to popular beauty vloggers/bloggers, but the reviews they get in return are always authentic and genuine.
The community is successful because Sephora gives their influencers the freedom to be unbiased, helping to develop a genuineness that their customers appreciate.
Showcase real stories and powerful imagery
On International Women's Day in 2016, Microsoft used National Geographic's enormous social media audience to build an Instagram marketing campaign called "Make What's Next."
The goal of the campaign was to encourage young girls to work in STEM (Science, Technology, Engineering, Math).
30 photos were posted on five of National Geographic's Instagram channels and the photos were taken by popular adventure photographers.
Each photo featured the story of a prominent female scientist or adventurer. The photo captions also included: @Microsoft – Empowering girls to change the world, stay in STEM, and be the ones to #MakeWhatsNext.
Microsoft created sponsored posts around stories of human experiences, with real faces with real stories. This strategy helped the company connect and engage with audiences on a deeper level and built long term brand awareness.
At the end of the campaign, Microsoft received over 3.5 million likes on the 30 photos with over 1,000 fan posts on Instagram using the hashtag #MakeWhatsNext.
Don't focus on your brand or product
Four years later, British Airway's "UnGround Innovation Lab" campaign is still being discussed today.
In 2013, a flight took off from Silicon Valley with 100 thought leaders, influencers and prominent thinkers from Google, RocketSpace and Silicone Valley Bank.
They were put together to use their brainstorming skills for the greater good and show how great ideas can be created when people work together.
On the flight, 22 concepts were developed in less than five hours. The ideas were all geared towards helping STEM-driven people to find opportunities to use their skills.
The campaign worked because they were able to get big names to join the experiment, which automatically brought media attention to the campaign.
The focus wasn't on the company, but British Airways still got their name in the news in an authentic and positive way.
Influencers don't need to be humans
Mercedes joined forces with an Instagram famous dog and VR technology to create their latest marketing campaign #MCPhotoPass.
It involved creating cinematic video content for Mercedes' YouTube Channel and used professional photographers to produce photos for their Instagram.
Mercedes invited Loki the Wolf Dog and his owner Kelly Lund to drive a 2017 Mercedes GLS through the snowy mountains of Crested Butte Colorado.
The car had 3D cameras attached to give viewers the experience of Loki the Wolf Dog running through the snowy terrain, while the other cameras give an inside look of the GLS.
The main strategy for the #MBPhotoPass campaign was to create videos that brought together a variety of different influencers to give fresh perspectives on Mercedes-Benz cars.
They worked with world class chef Chris Coombs to Loki the Wolf Dog, targeting different customer segments.
The second part of the strategy was letting the best Instagram photographers capture photos of the excitement and glamour associated with the Mercedes brand.
Their Instagram generated 173 million impressions, 2.3 million likes/comments and $4 million worth of earned media.
The campaign worked because Mercedes took advantage of the growing popularity of VR technology and of course, people's love of cute animals.
Give your brand a "human face"
TD Ameritrade's "Human Finance Project" campaign was created to change the negative perceptions of the finance industry by featuring stories of real registered investment advisors on their website.
The goal was to showcase the work that financial advisors do and put them in a positive light by showing investors, they aren't in it for the money, but focused on helping people meet their life goals through money management.
It gave advisors the opportunity to share their stories, specifically about what inspires them and what drives them to do what they do.
The company gave the financial industry a human face by putting the spotlight on individuals with relatable stories, making it easier for people to feel connected with them.
They used regular people as influencers to connect with the public, reminding us that influencers don't need to be famous celebrities. They just need to be relevant to your audience and campaign.
Hand over creative control
Clothing retailer Zara worked with top fashion-focused Instagrammers on the design project #iamdenim campaign to highlight their latest products by showcasing them in a way to appeal to their target audience.
By working with Instagram fashion influencers like Teesh Rosa, they were able to give the impression that their products are more accessible compared to high fashion clothing brands.
The message behind the #iamdenim campaign was the brand worked with real people to produce clothing for real people.
Zara's Instagram posts look like photos from the pages of a fashion catalog, where people can look for ideas and tips on what's trendy in the fashion industry.
In just eight months Zara's Instagram gained 4.6 million new followers, that's quite an impressive feat!
The success behind Zara's influencer marketing campaign was handing over the creative control of the brand to their influencers.
Due to the accomplishments of their campaign, many competitors also started to copy their strategies hoping to gain the same success.
Advocate to Influence
For a brand to be believable, it first must advocate for what it believes.
A shared belief or cause is an easy springboard to influence decision. 
Attach your brand's identity to a worthy cause of a non-profit or an advocacy group.
Not only do you make that organization your influencer, but their members and followers your brand advocate.
And support through fund-raisers can even get their community as retailers.
An innovative way of doing this is how sparkling water beverage bubly partnered with Autism Speaks Canada (ASC) to raise funds to increase understanding and acceptance of autism in the community.
Supporters across Canada can host ASC bubly Smile Stands to sell  this sparkling water this summer at home, in a public park or even at place of work. 
Exercise your Brand
Your brand influence best when you practice what you preach. You are your slogan, only when you exercise it that you can truly influence. 
If your preach about healthy food choices, then teach how to cook them. If you are a shoe brand that promotes confidence, a sports training camp how to "just do it" will give that slogan real meaning.  
Lululemon Athletica, a high-end yoga pants maker, does this better not only to sustain their market but to influence the need for the usability of their brand. Where their yoga pants can be pricey, they made yoga classes free and lead by instructors from local studios in the community. 
Team Up to Expand Collections
Winter, spring, summer or fall shouldn't only be the collections for your product offerings.
And a partnership for a launch of a new music, film, or show, is also good but only while the promotion lasts.
This is particularly true for some clothing and toy brands. 
Teaming up for the purpose of media mileage is good, but what you need is value to your brand. A value that aligns with your identity as a brand and influences purchase decision. 
Hunter, a rubber Wellington boot and footwear brand, teams up with hit shows and movies to expand its collections.
But it does so only when the theme is consistent with Hunter's brand and product lines.
Such is this year's The Hunter x Peppa Pig collection and last year's Hunter x Disney featuring Mary Poppins limited edition footwear.
Both Mary Poppins and Peppa Pig are share Hunter's British heritage.
Mary Poppins known for its signature look of umbrella, bag and with kids in the film wearing rain boots made sense for Hunter to collaborate with Disney.
And to pay homage to Peppa Pig's 15th anniversary this year, Hunter partnered with Entertainment One, the studio that owns the rights cartoon show.
With a children's character in mind, Hunter can relate its identity to the fun and adventurous spirit of Peppa who loves a muddy puddle.
Engage by Giving Back
Gratefulness goes a long way.
When a brand gives back to its consumers, it breeds not only loyalty among them but influences them to promote and advocate for you.
Engage customers not just to sell to them but to thank them.
Especially when you are an expensive brand, when you give back the customer experience goes beyond the transaction but forges a relationship with the brand.
When Dr. Martens, an English footwear and clothing brand, give back to its consumers it sets them up for a rewarding experience in paying CAD$180 or £170 for a pair of boots.
They have in-store gigs – from free shows, or bringing in barbers to offer free hair cuts, and even tattoo artists to personalize designs on shoes and boots.
In their flagship store in Camden, they offer exclusive access to music venues such as their very own Boot Room that can host up to 60 people.
DM's Boot Room is no longer just a venue, it is an experience and has taken a tour outside the annex of its Camden store to bring some of the UK's biggest and best performances.
Their show tattoo service has also become an event. DIY Docs Customization tour  has become  kind of fashion-meets-art mashup when fans get their Docs personalized by artists they've been following.
"Nowadays, commerce is a by-product of engagement. The consumer need might not necessarily be about buying a pair of shoes, it might be about a favourite band that hasn't played for two years playing in a Dr. Martens store and they need to get there. It's about giving them that opportunity so then they buy into the brand while not necessarily having to buy into the product," –  Darren Campbell, Dr. Martens's chief product and marketing officer told Marketing Week.

Relate to a Bond
When yours is a niche brand, invest in building relationships with your customers and that you can do when you inspire activism using your brand.
This is how Dia & Co became more than a clothing store. With its campaign for body positivity and against body-shaming, plus size women have found their voice and identity in Dia & Co's  theCURVYcon event.
Dia & Co is not a popular clothing brand, it mainly offers wardrobe coaching when customers complete style profile online.
Through its Dia Style Box, pieces tailored to your shape, style and budget are then picked and assembled by their stylists, box them and sent to you.
But with theCURVYcon, Dia & Co's selling point is embracing the curves, promoting confidence and body positivity.
Provide a venue for your target audience to express themselves, to bond, and rally behind issues that matter to them.
You can truly influence when you align your brand itself to the values, causes that bind your customers.
Influence Through Philanthropy 
Your identity as a brand internally and externally matters to your customers.
Customers feel they are supporting a cause when they choose socially conscious brands.
Other customers only prefer brands that sponsor philanthropic activities to make a positive impact.
And this sponsorship can be rewarding. Even with philanthropic commitment, Old Navy, a clothing brand, still generated $7.9 billion in revenue in 2018. 
Old Navy supports non-profit Boys & Girls Clubs of America (BGCA) for more than 15 years now, and still continues in-store donation drives with local community involvement and volunteerism aimed at helping youth dream big.
Like-minded celebrities become natural allies and influencers of good causes. For it support to BGCA, Old Navy got the backing of former professional baseball major league superstart Alex Rodriguez, or "A-Rod."
Score Big in Sports History
Everybody loves a winner.
Leveraging the hype around a historic win is an easy way to acquire new customers, tap existing fan base, and influence perception of followers of pageants, athletic competitions, game shows or sports events. 
When history is made, don't be left behind.
Get into the fever, join the cheer, celebrate with the fans.
That's how Tim Hortons positioned itself against Starbucks in Canada when Toronto Raptor made basketball history.
Starbucks, an American coffee franchise, obviously is muted.
But while Tim Hortons celebrated its Canadian heritage (though American owned now), and even while Tim's story is rooted in hockey in its blood, that didn't stop them to also embrace the limelight.
Tim's reminded customers that it is a Raptors fan as well, quietly sponsoring Canada's sole NBA team for more than 20 years.
The coffee and donut chain related its steady support and dedication to the team to Canada's most recognizable sports fan in the country superfan Nav Bhatia by featuring him in a mini-documentary commercial. 
According to Paloma Azulay, global head of creative excellence at Tim Hortons, "Nav Bhatia embodies Tim Hortons brand values of inclusion and diversity, so no one better than him to share an inspiring message about this historic moment for Toronto Raptors and Canada."

Take Up a Challenge
More than your products and services, it's also your story that customers buy.
They care if you also show you care about what matters to them because it makes good sense not just business sense. 
You don't even have to initiate. When customers offer suggestions on how your company can help, respond but in a way that you don't appear like you needed to be told what to do.
As you take the challenge, motivate your followers to join you. This way you build relationships, and gain influencers.
When Turkish Airlines was tagged in a Twitter campaign calling for action for humanitarian aid to Somalia, the airline pledged it would do so if funds for the supplies are raised in 10 days.
With a hashtag #TurkishAirlinesHelpSomalia, YouTube stars like Juanpa Zurita and actor Ben Stiller reached their $1 million target in less than a day.
Turkish Airlines, the only commercial carrier to service Mogadishu airport in Somalia did fly a plane of food and water to Somalia, earned the good favors from the influencers it attracted, won the admiration of its followers, and the respect of the world.
Leverage the Hype 
Keep your ears on the ground and your eyes online.
Opportunities to be seen or heard come but once, sometimes they are obvious so leverage a hype, a trend, or the latest craze.
And these opportunities to raise awareness around your brand are not only for the small or unknown brands. 
Sometimes it's the big and popular brands that leverage these opportunities the most because it strengthens their position in the market, keep them relevant, grow its fanbase and influence new followers.
The #TimeOnYourHands' in-house campaign of Wish, UK's number one online shopping app, intended to reach another market to drive sales and raise awareness of its app's features. 
As there was much talk about those countries that didn't make the 2018 World Cup, Wish worked with major football stars of those countries with mammoth following for its campaign.
These soccer stars Robin van Persie, Paul Pogba, Gareth Bale, Neymar Jr, Tim Howard, Gianluigi Buffon, and Claudio Bravo, were shown discovering new hobbies during their time off (with a little help from the app).
These light-hearted videos appealed to their fans, and easily reach and influence millions. Neymar generated two million views alone on Instagram within two hours.
Wish achieved the goals of the campaign, and a brand recognition to the global audience of World Cup with avid football fans everywhere.
Sponsor Content or Collaborate
A sponsored content, or content collaboration is most popular influencer marketing example where brands and influencers can work together.
To get keep audiences engaged and getting them to check out your brand, you ensure that content is aligned to your brand values, and messaging is consistent with your brand story.
And this happens when you collaborate or sponsor the photo, video, or blog post featuring your offering on the influencer's channel(s) as agreed upon.
Collaborate or sponsor content, but not hijack the influencers way and style of communicating to his audience.
Give him the creative leeway to best engage his audience. You will influence his followers more if you let him speak to them in the tone and voice they know. 
This is how Boeing worked with Calvin Young, a deaf traveller who entertains and inspires through his blog Seek the World with 293K followers on Facebook, 41.9K on Instagram and 14.9K YouTube subscriber.
The aircraft maker wanted to show its inclusivity as a company, so they collaborated with Young to produce a video example that highlighted its workforce that included 40 Deaf and hard of hearing employees in Everett, Washington.
Young's Seek the World, an adventure travel blog featuring stories, travel tips, photography, and videos from around the world, produced the content with Boeing's assistance.
Boeing's image as supportive to its deaf employees needs and accessibility did not come out as self-promoting because Young, who is one of them delivered the message (in sign language).
Key Takeaways
Influencers don't always need to be celebrities, they can be just regular people or even non-human. As long as they are relevant to your campaign and target audience.
Collaborate with non-competitor companies to reach and target potential new customers by leveraging their large social media audience.
Work with influencers who aren't a part of your industry in order to gain new ideas and ways to promote your brand.
Give your influencers the freedom to provide honest and unbiased reviews of your products or services to enhance the authenticity of the brand and gain the trust of your customers.
Influencer campaigns don't always need always need to be focused on the brand or product. Think outside of the box and find different ways to promote your business without being too gimmicky and in-your-face.
Let your influencers have creative control over the campaign. They know their audience the best and the best ways to engage with them.
Leverage advocacy or a social cause that influences brand perception, and customer behavior. When customers buy your story, relationships with them are forged that advance them to advocate for you.
Forge partnerships that inspire new product offerings or influence product development, and expand sales verticals. These partnerships can deliver both influencers and followers for your campaign.