Updated Dec 2022 to include a bonus case!
Superior customer experience isn't always about exceeding customer expectations.
Sometimes the most memorable experiences come from delivering on promises and demonstrating genuine concern for client needs.
Customer services in banks is no exception.
Today, consumers expect to come away from every engagement with a positive brand image, one they want to share with their peers, colleagues and family.
Here are five examples from the financial service industry of customer service leaders that understand the importance of amplifying brand performance.
Build Long-Term Relationships Through Shared Values & Special Needs

People look for brands that share common core values and principles. Those values and principles often come with special needs.
The Voya Care program connects clients with specially trained advisors who understand the physical, emotional – and, yes financial – needs that come with caring for a family member with special needs.
Voya advisor Joan Tucker-White, who has a son with Asperger's Syndrome, walks clients through the journey of finding community resources, support groups, available benefits to help overcome the overwhelming obstacles in a holistic manner.
Prepare the Future Generation for Financial Success
When OppenheimerFunds launched their 10,000 Kids by 2020 initiative, their goal was to "make a difference in students' lives and help get them excited about math."
OppenheimerFunds CEO and chairman, Art Steinmetz envisioned a program that would empower younger children with skills and knowledge necessary for the next generation of entrepreneurs, investors and educators.
Investing in the future is critical for brand success. Community-centric business leaders who support innovative these partnerships create positive brand awareness and future growth opportunities.
Financial services leaders like Oppenheimer demonstrate their commitment to future generations through continued outreach and empowerment programs on an ongoing basis. Engaging with clients from the customer call center and the front lines.
Bridge the Digital Divide
Banking and wealth management strategies continuously evolve to meet the growing demand for instant gratification.
In a world where consumers measure response times in seconds, not minutes or hours, providing self-guided service and on-demand products is no longer an option, it is an essential part of building a loyal client base.
Responding to this ever increasing "culture of immediacy" demands mobile solutions enabling clients 24/7 access to accounts.
Jamie Morawiec, Associate Partner at CACI expects half of all banking transactions to be digital by 2022, meaning banking and FI organizations should focus on robust digital transformation now.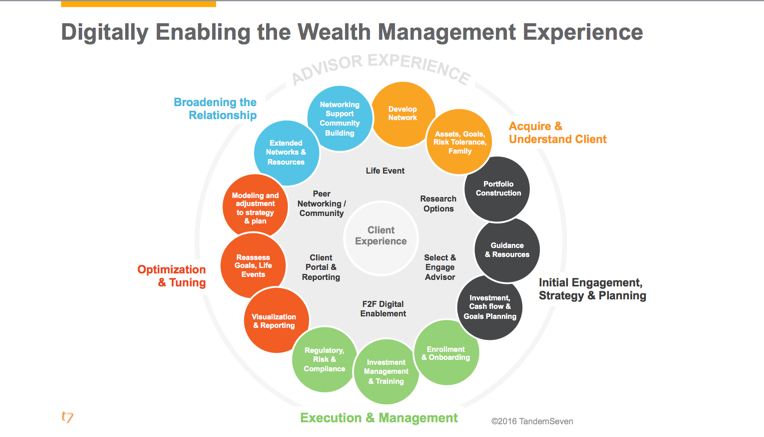 Intuitive website and platform designs deliver a multi-channel consumer experience that supports both internal customer service professionals and clientele.
Think, apps that allow investors to monitor accounts, buy and sell assets online and connect with an advisor quickly when an issue comes up that demands personal interactions.
Self-guided options create opportunities for deeper relationships as digital consumer activity data provide valuable user insights for tailoring future offerings.
Fidelity has also done a good job of providing a balanced customer-direct and on demand technology-based service delivery system, including an app for mobile check deposits.
Simple Customer Service Goals
Donna Peeples. chief customer officer at Pypestream, reminds business leaders you don't have to "delight" customers with every interaction.
Most customer engagement expectations are simple. Make it easy. Make it efficient. Provide a solution.
Thought leadership means providing customers with answers not excuses.
Whether simplification comes in the form of an instant access card from a new banking partner, a 24/7 call center line or chat bot solutions for buying insurance or trading stocks, user-friendly service options are imperative and provide excellent customer service in banking.
Brighthouse Financial offers self-directed learning tools, such as the FlexChoice Access Retirement Tool, which help them make better retirement planning decisions.
0
Take the CX in Another Direction
The primary goals are to save customers time, money and frustration. One example of simplifying customer experience comes from Metro Bank.
Metro Bank has totally redesigned their financial service delivery plan.
By opening a 24/7 walk-in branch where customers can come in when it is convenient for them, open an online account and walk away with an active debit card in a matter of minutes – no hassles, instant access to funds without waiting for a card to arrive in the mail.
Ever heard of using a #selfie 📱 to open a current account? Well you can with us! With just a few details, plus your best selfie, you can open a current account online in just 10 minutes. Learn more here ▶ https://t.co/q3Pndx7IMw #JoinTheRevolution pic.twitter.com/t7HDHqVuE8

— Metro Bank (@Metro_Bank) May 23, 2018
According to Paul Riseborough, commercial director of Metro Bank, the new business model is "a matter of fitting into the busy lives of our customers." This new approach supported by digital technology allows bankers to develop targeted campaigns with a specific offer at the right time for every customer.
Customer experience doesn't have to be complicated or sexy. The key is to focus on developing deeper relationships.
CX As a Core Business Value
When bringing clients into their services, Canadian investing company Wealthsimple had to overcome two large hurdles: attracting clients in a notoriously cautious industry, and making customers trust technology with their finances.
While robo-advisory has become a larger trend in financial services, the idea of giving your investments to an algorithm is still quite daunting to many individuals.
To tackle this problem, Wealthsimple knew they needed to be trusted from the get-go, otherwise they would have a hard time bringing on clients at all.
That is why Wealthsimple brought in some of the best marketers, UX designers, and CX experts in town.
By providing an immense amount of investment education, a reliable and personable customer support team, consistent email communication about investments, and designing it all to be simple and beautiful (even picking up a handful of design awards) Wealthsimple has used customer experience as the keystone to their strategy.
The reason Wealthsimple has found success in investing is not because they found alpha, but because they've successfully made customer experience their #1 priority.


3 Ways BONDAI Can Help Enhance Your Bank's Customer Experience
Go Beyond Reward Points – every bank lets you redeem points for products and services.  BONDAI has partnerships with hundreds of brands that provide unique offers and experiences for your VIP clients that your competitors don't have – like driving an F1 car experience, a private virtual tour of a luxury space capsule, or even private jet and caviar concierge services!
Get to Know Your Client Tastes & Interests – with data on what your banking clients redeem in terms of offers, experiences, and surveys, you'll be able to know them better.  That insight can be used for more personalization, better advisor-client interaction, and where to focus marketing spend.
Custom Corporate Gifting – Through BONDAI's unique corporate gifting platform, you'll be able to gift better knowing your client's tastes and interests.  You'll be able to everything from automate gifting to new clients, get feedback on not only your gifts but your banking services, and generate reviews and referrals to grow your clientele.
BONDAI is a one-of-a-kind solution combining technology and
"the human touch" to build exceptional relationships with
clients, prospects, partners and employees.